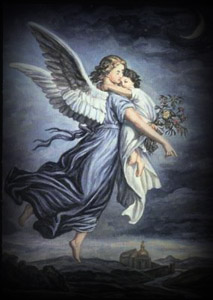 Hi, thanks for stopping by, I'm glad that you are here. I am so excited to have this site where folks like you can learn, read about and discover Angels. I have designed all the information to be about discovery, learning and inspiration. Isn't that what life is about? Throughout the site you will find details on the different types of Angels, the names and specialties of the Archangels and how they all have the ability to interact and enrich our lives.
In this welcome letter, however, I want to talk to you about the most important Angels in your life – your Guardian Angels. Everybody has them, including you, no exception. They come with you from birth and take this wonderful earthly journey with you right by your side. Isn't that amazing? You are never alone – your Guardian Angels are your best friends who want to help, listen and assist in any way possible. They are just waiting for you to ask, since they can't just jump in and help any old time because you have "free will," and they will never interfere with your free will. You must invite them – ask for their assistance and they will jump to action on your behalf! Your Guardian Angels are assigned just to you, hence the name, Your Guardian Angels. They won't go work with someone else because they can't, so just think how boring it is if you don't give them anything to do? Two or more best friends just sitting there drumming their Angel fingers wondering when you will ask them to help. So why not give them a try – perhaps start with something small. How about asking for a parking space? I call it "Rock Star Parking" and who doesn't need help with parking? I call on my Angels all the time (I have some seriously fit Angels since they are always working!) and am truly blessed by their incredible work in my life. I look forward to introducing you to the world of Angels and working with you as you embark on your new life journey with Angels.
Thanks for coming by and I hope you enjoy all the Angel information I have provided for you here. Be sure to check out the seminars and classes as well as individual consultations that I provide and definitely sign up for weekly Angel affirmations sent directly to your email! I do hope you find this site useful and if you have any thoughts or suggestions, don't hesitate to send me a message and let me know – I look forward to hearing from you!
Much love, peace and success always,